iSpin-NMR™
---
The Complete, Simple, Intuitive, Effective and Portable NMR Console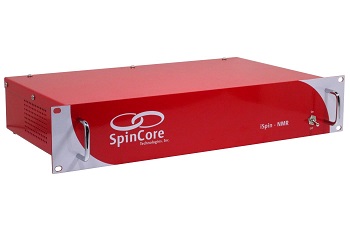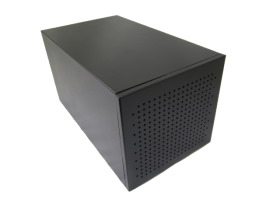 Models and Ordering Information

When ordering, please specify your desired frequency of operation.
The iSpin-NMR System Console includes:

SpinCore Technologies, Inc. RadioProcessor board.
Broadband, low noise, input preamplifiers.
RF filters for the desired operating frequency range.

Additional options available:

Duplexer (Transmit/Receive) Circuitry.
Additional RF Filters and Custom Cables.
NMR Magnets and Probes.
Oven Controlled Oscillators.
Custom Designs and Modifications.
Model
Price
Order
iSpin-NMR 2U Rackmount/Desktop


2U Rackmount/Desktop Enclosure

Over 20 Watts (Nominal) output power


$14,850


iSpin-NMR-ETRS


Dual bay enclosure
Implements fast electronic T/R switch (ETRS), no Lambda/4 cable required
Ideal for microcoil NMR

$14,850



iSpin-NMR GX-5


Dual bay enclosure
Reduced RF output compared to 2U iSpin-NMR rackmount/desktop

$14,850



iSpin-NMR™ is SpinCore Technologies' complete, portable NMR console. The iSpin-NMR™ can serve as a complete system console for Nuclear Magnetic Resonance (NMR) or Nuclear Quadrupole Resonance (NQR) with spectrometer frequencies from 0 to 100 MHz (certain restrictions apply, see the Manual).
This unique system is housed in a small form factor 2U rackmount/desktop or dual bay enclosure, providing users with a compelling price/size/performance proposition unmatched by any other device on the market today.
Key Specifications
Integrates excitation and acquisition components onto a single system.
Directly captures and digitally demodulates IF/RF signals. The desired baseband bandwidth is user definable through software.
Generates completely formed RF excitation pulses as well as high resolution digital control signals
Has Arbitrary Waveform Generation (AWG or 'shaped pulse') capability
Maintains signal coherence between excitation and acquisition systems at all frequencies.
Autonomously signal-averages the baseband data between multiple acquisitions.
Samples the input signal at up to 75 Ms/s with 14-bit resolution.
Captures input signals above the Nyquist frequency, up to approximately 100 MHz.
Provides up to 10 MHz bandwidth of acquired baseband data.
Direct Digital Synthesis generates RF output pulses with 14-bit resolution up to 300 Ms/s clock frequency.

Pulse setting resolution up to 13.3 ns, with pulses from 66.6 ns to several days per interval.
Zero-latency phase and frequency switching.
Wide-bandwidth input amplifier and A/D converter allow for undersampling applications.

Applications
Nuclear Magnetic Resonance (NMR), Magnetic Resoance Imaging (MRI), and Nuclear Quadrupole Resonance (NQR) experiments from 0 to 100 MHz. Example applications include:
Process control using Nuclear Magnetic Resonance (NMR).
Solid-state and solution-state NMR.
High-resolution solid-state NMR under MAS.
Field-Frequency Lock System for high-resolution high-field NMR console.
Detection of explosives using Quadrupole Resonances (NQR).
Magnetic resonance in porous media.
Well bore NMR
Multi-spectral sensing on autonomous vehicles.
Medical imaging, MRI.
Ultrasound.
Radar.
Optical Cohorence Tomography.
Quantum computing.
Optically detected NMR, OD-NMR.
Solid state physics experiments.
Nanomagnetism and spintronics applications.
General laboratory use.
For more, please visit our Applications Page
Sample NMR Spectra obtained with RadioProcessor
Product Manuals and Videos

Free Software Support
Available as a part of the SpinAPI Package:

Example programs (executables and C source files)
PulseBlaster Interpreter for easy programming without writing C code

The SpinAPI package and several of the interfaces and examples are available for download on the Software Downloads page.
Warranty Information
Standard warranty - one year from the invoice date
Standard support - free 20 hours telephone/email support in the first 3 months after the purchase date

Money-back guarantee – 30 days