PulseBlasterUSB Rackmount: Portable, Programmable TTL Pulse Generator / Digital Word Generator and Timing Engine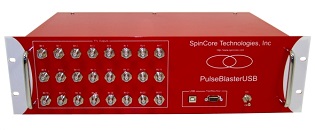 PulseBlasterUSB Rackmount is a rack-mountable or stand-alone programmable digital pulse (TTL levels), pattern, and word generator. The system has all of the features of our standard PulseBlasterUSB in an easier to use enclosure. It is plug-and-play, controlled via USB, and includes an internal power supply (universal A/C input, 100-240 V). USB drivers and C software for Windows XP and Linux are included, enabling the generation of complex pulse and pattern sequences for NMR, MRI, ultrasound, mass spectrometry, and related resonance and test technologies.
Key Specifications
24 individually controlled digital output lines (TTL levels) accessable from the front panel
Variable pulses/delays for every output line
Pulses ranging from 50 ns to over one week per interval with constant pulse resolution of 10 ns
25 mA output current per channel
Up to 4k pulse/pattern program memory words
Advanced pulse program flow control
Nested loops, up to 8 levels
20-bit loop counters (over 1 million repetitions at a time)
"Wait for event" function
High maximum retriggering frequency (above 1 MHz).
2U Rackmount enclosure; 48.26 cm x 27.94 cm x 8.89 cm (WxDxH)
Applications
Complex, high-speed, multi-channel pulse, pattern, and word generation. Customers' applications have included
Experiment and process control in Electron, Nuclear and Quadrupole Resonances (ESR, NMR, NQR)
Mass Spectrometry and related test technology
Ultrasound, radar, medical imaging
Laser control in advanced communication
Solid state physics experiments
Nanomagnetism and spintronics applications
Robotics and process synchronization
Complex Pattern Generation
Models and Ordering Information
Model
Number of Channels
Pulse Resolution
Shortest Pulse
Memory Words
PBUSB-RM-24-100-4k
24
10 ns
50 ns
4k
Product Manuals
Free Software Support
Available as a part of the SpinAPI Package:

Example programs (executables and C source files)
PulseBlaster Interpreter for easy programming without writing C code

The SpinAPI package available for download on the Software Downloads page.
Interfaces and examples - PBInterpreter, PulseBlaster.NET, LabView, Matlab.
Warranty Information
Standard warranty - two years
Longer warranty periods available
Money-back guarantee – 30 days.